Last edited

on June 5, 2021
Mini-Mental Status Exam (MMSE)
Primer
The Mini-Mental Status Exam (MMSE) is a cognitive screening tool that provides a brief, objective measure of cognitive function. It can be used to screen for cognitive impairment, to estimate the severity of the impairment, and to document cognitive change over time. The MMSE is the most widely used brief test of cognition in clinical and research settings. The MMSE tests multiple cognitive domains: orientation, repetition, verbal recall, attention and calculation, language and visual construction.
Standardized MMSE (SMMSE)
The original MMSE (created in 1975!) can be vulnerable to poor inter-rater reliability. The Standardized MMSE (SMMSE) was developed in 1997 to provide exact scoring instructions with clear and unambiguous guidelines to administer the test, in order to increase reliability and reduce variability.[1] Of note, scoring of WORLD is different in the MMSE compared to the SMMSE (see below).
Indications
The MMSE can be used in routine cognitive screening in those suspected of a neurodegenerative condition.
Preparation
Make sure you have a pen and watch handy. The patient should also have adequate vision and hearing. Always check if they need hearing aids or glasses, as this will affect the score.
Components and Scoring
Repetition/Registration
Tell the patient to listen carefully, because you will ask them to repeat after you three words. Speak loudly and clearly and pause for 1 second after each word, in a monotone voice. Three unrelated words are typically used (e.g. - ball, tree, fork). If the patient is unable to repeat all three words on the first try, get them to repeat them again up to five times until they can say them all back in succession. However, the only the score from the first try is recorded.
Calculation (Serial 7s)
Ask the patient to take away 7 from 100. Ask them to continue subtracting 7 and continue to a total of 5 subtractions (one point is given for each correct answer to a maximum score of five points). If serial 7s cannot be performed correctly, then they should be asked to spell WORLD.
It is good practice to do both serial 7s and WORLD in cognitive testing, note the performance on both, and use the highest score available.
What If a Patient Can't or Is Unable to Answer a Question?
When a patient is unable to complete items on the test due to language barriers (e.g. - English is not their first language), or physical impairment (e.g. - unable to draw with hand due to paralysis), there are several ways to correct for this (choose one):
Score as if it was unsuccessfully performed, but note it was due to language barrier or physical impairment

Deduct the incomplete items from the total score (e.g. - a total score out of 28, instead of 30 if they were unable to write or draw the last two items). This corrected score can further be corrected back to a score out of 30. (e.g. - score of 26/28, would be the equivalent of (26/28)*30 (=27.85), which would give a total score of 27.85/30.
Attention (WORLD)
Spelling WORLD backwards is straightforward, but the scoring of it is often incorrect, even by experienced clinicians.[2][3] Originally, the creator of the MMSE, psychiatrist Dr. Marshal Folstein advised that the score is "the number of letters in the correct order," however, this often led to incorrect scoring due to the numerous possible permutations. With the creation of the Standardized MMSE (SMMSE), the proposed and easiest way to score WORLD is using the "line method" (see figure 1). The line method involves drawing lines to match the letters from the correct response (DLROW) and the response given by the patient. The total score is the maximum number of lines that can be drawn without crossing any lines.
WORLD should first be spelled forwards to allow the correction of any mistakes and then backwards. One point is given for each letter spelled in the correct order backwards to a maximum score of five. If more or less then 5 letters are given, then one point is deducted for each extra or missing letter. Only use the best score of either the serial 7 s or spelling WORLD backwards in the total MMSE score.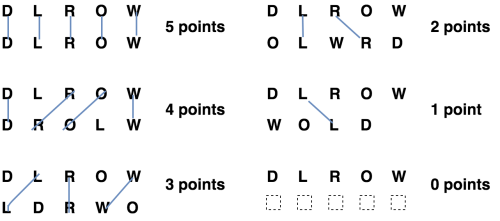 Fig. 1
Writing and Drawing
When writing, only give a point if it is a comprehensible sentence with a subject and verb. Ignore spelling, grammatical or punctuation errors. The quality of handwriting such as tremor and letter size does not count. When scoring the intersecting pentagons, only give a point if the pentagons overlap to form a 4-sided embedded figure.
Interpretation
Norms
In higher education levels, the MMSE scores increase and the range of scores narrow.[4] Patients with lower education may receive a false positive diagnosis, and conversely, individuals with higher education level may mask any mild cognitive impairment (false negative).
Average MMSE Scores: Age and Education Norms
Crum, Rosa M., et al. Population-based norms for the Mini-Mental State Examination by age and educational level. JAMA 269.18 (1993): 2386-2391.
| | 18-24 | 25-29 | 30-34 | 35-39 | 40-44 | 45-49 | 50-54 | 55-59 | 60-64 | 65-69 | 70-74 | 75-79 | 80-84 | 85 |
| --- | --- | --- | --- | --- | --- | --- | --- | --- | --- | --- | --- | --- | --- | --- |
| 0-4 years education | 22 | 25 | 25 | 23 | 23 | 23 | 23 | 22 | 23 | 22 | 22 | 21 | 20 | 19 |
| 5-8 years education | 27 | 27 | 26 | 26 | 27 | 26 | 27 | 26 | 26 | 26 | 26 | 25 | 25 | 23 |
| 9-12 years (high school) | 29 | 29 | 29 | 28 | 28 | 28 | 28 | 28 | 28 | 28 | 27 | 27 | 25 | 26 |
| College or higher | 29 | 29 | 29 | 29 | 29 | 29 | 29 | 29 | 29 | 29 | 28 | 28 | 27 | 27 |
Other MMSE Norms Data Sets
| | |
| --- | --- |
| Newer normative (age and education) MMSE and MoCA datasets from The Irish Longitudinal Study on Ageing, based on a geriatric population, was also recently published in 2013.[5] | |
Diagnostic Use and Average Scores
While the MMSE is a screening test and not a diagnostic tool, MMSE findings can be used to correlate to dementia subtypes and the severity of neuropsychiatric disorders including depression.
MMSE Findings and Dementia Subtypes
| Dementia | MMSE Findings | Impairment |
| --- | --- | --- |
| Alzheimer's disease | Worse performance on recall of three words and orientation to time/place | Memory |
| Vascular dementia, Parkinson's disease, and Lewy body dementia | Worse on attention, obeying a three step command, writing a sentence and copying intersecting pentagons, | Impairment of working memory and motor, constructional and visuo- perceptual skills |
| Frontotemporal dementia | Tend to have higher MMSE scores in comparison to Alzheimer's at initial presentation, and slower annual rates of decline, because MMSE is geared more towards detecting impairments of orientation | The MMSE is less able to detect the executive dysfunction typical of fronto-temporal dementia, and other screening tests like the FAB should be used |
Diagnoses and Average MMSE Scores
| | Score |
| --- | --- |
| Normal Subjects | > 27 |
| Uncomplicated Depression | ~ 25 |
| Mild Dementia | 18-26 |
| Moderate Dementia | 10-18 |
| Severe Dementia | 10[6] |
Limitations
At MMSE scores above 24, it lacks sensitivity to diagnose mild neurocognitive disorders, and other cognitive tests, like the MoCA or detailed neuropsychological testing is needed. Similarly, in severe dementia (i.e. - scores less than 10), the MMSE may have a "floor effect" that makes it not sensitive to track further decline. The MMSE is also less sensitive in the measurement executive function problems, since it is more geared towards memory and language. Thus, the MMSE relies heavily on verbal cognitive function at the expense of non-dominant hemisphere skills. The MMSE has no assessment of executive functioning or visual memory.
Ethnicity
The MMSE score can also be affected by race and ethnicity, and is lower in older black and ethnic minority groups. The lower scores are due to reduced English fluency, lower educational levels, and socioeconomic status.[7]
Practice Effects
Practice effects are improvements in cognitive testing performance due to repeated exposure to the test material. To reduce the bias of practice effects, different words can be used for the recall task, and different common objects can be used for naming.
Other Languages
Chinese
Resources
For Providers
QuoCo

- Validated MMSE score tracking tool used differentiate expected cognitive decline from aging versus neurological disease.
References